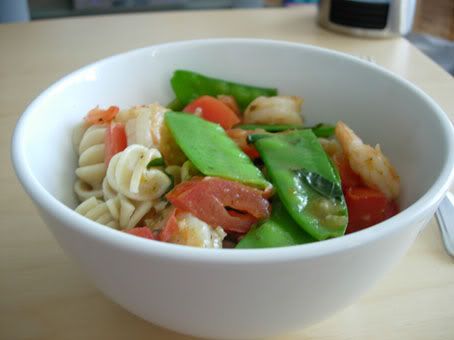 Tonight, I tried to imitate this pasta dish that I love, and that I always have when I go to East Side Mario's. Their version is called Firecracker Shrimp Bowties. I absolutely love it. Light, garlicky, and subtly spicy. Mmmm...My version suprisingly tasted very close to East Side's, save for the spiciness, and the use of whole wheat rotini, instead of bowtie pasta. Here's my recipe:
½ cup chicken broth
4 cloves garlic minced
1/4 cup chopped fresh basil
3 plum or roma tomatoes, chopped
2 cups snow peas
1 tsp cornstarch
2 tbsp lemon juice
2-3 shakes of red pepper flakes
1 lb. medium shrimp shelled and deveined
4 cups hot cooked pasta (bowtie/rotini)
1/3 cup olive oil
Salt and Pepper
¼ cup grated/shredded parmesan cheese
De-shell and rinse shrimp. Pat dry. In bowl, season with salt and pepper over shrimp, as well as some lemon juice. In a large saucepan, heat a tbsp of olive oil, and saute ¼ garlic, and all of shrimp over high heat. Just as shrimp turns pink, add snow peas. Stirfry for 1 minute, and then add tomatoes. Stirfry until shrimp is cooked, and snowpeas are crisp. Remove from pan.
Over medium heat, add the rest of the olive oil, chicken broth, garlic, lemon juice, cornstarch, red pepper flakes, parmesan cheese, and basil to the saucepan. Stir until boiling and thickened. Add pinches of salt and pepper. Add the shrimp, tomato, and snow pea mix. Combine well.
Serve over al dente cooked pasta.
Serves 4.