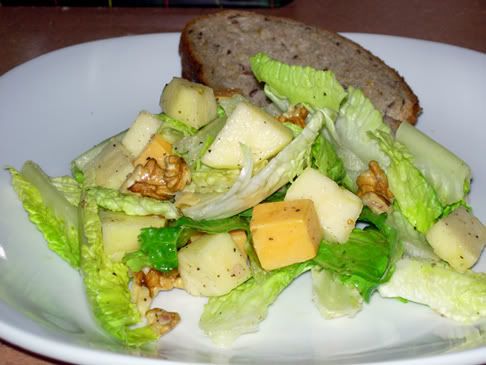 Tonight, B wanted to have leftovers for dinner (stirfried pork, veggies, and egg noodle). Of course, I was dissapointed, because I wanted to cook! Well, since I didn't want to cook a full four serving meal just for me, I decided to make a salad pour une. And not just any old salad. So, I turned to my trusty The America's Test Kitchen Family Cookbook to see what sort of interesting salads I could whip up with what I had in my fridge. What I found was a Bibb Lettuce, Green Apple, and Cheddar recipe, with their Basic Vinegrette salad dressing*. The final product is what you see above, with this really yummy multigrain rye bread that I bought for the first time.

Modifications:
Romain lettuce, instead of Bibb lettuce

Added walnuts

Added cucumber

* The ATK Family Cookbook's Basic Vinegrette is really tasty. It consists of: olive oil, red wine vinegar, diced shallot, minced garlic, salt, pepper, dijon mustard, and oregano (they also suggest other herbs you can choose from).