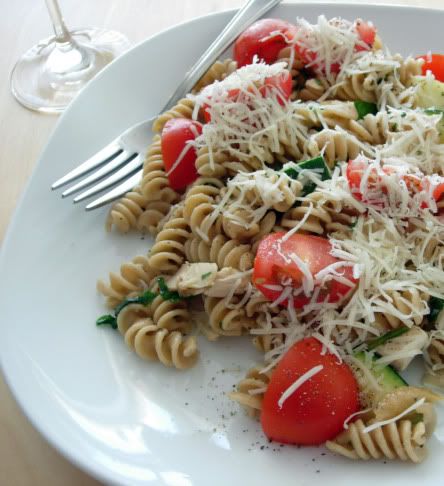 Healthy. Easy. Quick. Delicious. All personal requirements that I try to aim for when I eat at home. And was totally necessary after an activity-filled weekend, including power yoga, and all the fun that comes with celebrating friends' birthdays. For dinner on Sunday, after getting some much needed rest, I made a light chicken and zucchini garlic rotini dinner, using leftover cooked chicken breast from the week's roast chicken, half a giant zuchinni from Mom's garden, and whole wheat rotini, topped with freshly grated parmesan and cherry tomatoes. I recently discovered mini parmesan blocks at Loblaws that cost between $4.00 to $6.00 a block. An economical and practical (for a small household) alternative to the expensive large blocks that I could never justify purchasing.
Chicken and Zuchinni Garlic Pasta
Ingredients:
cubed cooked chicken breast
4 garlic cloves, minced
a few swigs of extra virgin olive oil
1/3 cup chicken broth
salt to taste
pepper to taste
a bunch of cilantro, chopped
2 to 3 cups of sliced zucchini
freshly grated parmesan cheese
cherry tomatoes, halved/quartered
In a large pot, cook pasta (like rotini, farfalle, fusilli) until cooked, al dente. While the pasta is cooking, sautee some of the garlic with the zuchinni in a large saucepan on med-high heat until lightly browned. Season with salt. Remove zucchini from pan and add olive oil. Heat until hot but not smoky. Remove from heat, and add the rest of the garlic. Turn down heat to med-low and place pan back on burner to sautee but not burn garlic. Add cilantro, chicken broth, salt and pepper. Mix well. Turn heat to low. Drain pasta, and then add it and the zuchinni to the pan. Mix well. Add more salt and pepper to taste. Serve on plates with cherry tomato slices, freshly shaved parmesan cheese, and freshly ground black pepper.
Serves 4.