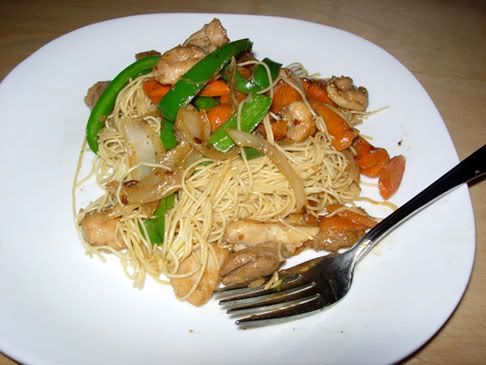 Well, it isn't really the egg noodle that is stirfried, it's the rest of it, which is whatever you want it to be. Tonight, I chose to stirfry chunks of chicken thighs, green pepper, and carrots. This meal is very very simple to make. And thanks to my Mom, who explained how to make it to me one night over the phone, I can now make use of the packages of egg noodles my parents so kindly bought me from Vancouver.
Ingredients:
4 rolls of egg noodle
Oyster sauce to taste
Soya Sauce to taste
Sesame oil - just a drizzle
Olive oil
1 onion, sliced
2 cloves of garlic, diced
2 carrots, julienned
1 Green pepper, thinly sliced
4 chicken thighs, sliced to chunks, or strips
Marinate chicken a med sized bowl with: a teaspoon of corn starch, seasoned with salt, white pepper, a drizzle of sesame oil, and a table spoon of soya sauce.
Place egg noodle in boiling water. Stir until egg noodes break apart. Once they are all separated, boil stirring for 30 sec to 1 min. Drain and rinse with cold water. Place back into pot, and then drizzle lightly with olive oil. Add the oyster, soya sauce and sesame oil. Stir until evenly coated. Set aside.
Heat on high a large non-stick pan with a tablespoon of olive oil. When hot, add onions and garlic. Stirfry for a couple minutes, then add the chicken. Stirfry until browned (2-3 minutes). Add veggies and stirfry for 5 more minutes.
Portion noodles in bowls or plates. Top with stirfried yummies.