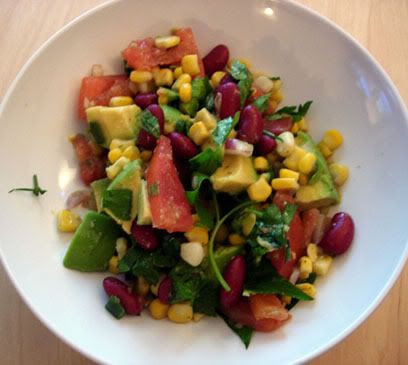 I couldn't resist picking up this gorgeous magazine called The Best of
Fine Cooking
: 101 Quick & Delicious Recipes. When I quickly browsed through the magazine at the drug store, I took the drop of drool on the page as a foreshadowing of delicious meals to come.
Anyway, one of the recipes in this magazine is called "Tomato, Avocado, Corn & Black Bean Salad". After a very long day at work, and after a difficult cooking experience the night before, the only thing I wanted was a very quick, easy, light, but satisfying meal. And I got just that with this recipe. I did modify it to scale down the size. Also, the recipe called for grilling corn on the cob and red onion skewers, and manually crushing cumin seeds. (A) I don't have an appropriate grill for that (George Foreman can grill
everything
, I've come to realize); (B) I didn't have corn husks or cumin seeds; and (C) That would not have met either my "quick" or "easy" criteria. So, I substituted with frozen corn kernels, and ground cumin, which I had on hand already. I also didn't have black beans, but I did have kidney beans. A great alternative, as I'm sure most beans would be.
Here's the recipe. Enjoy!
Tomato, Avcado, Corn & Bean Salad
Modified from Quick and Delicious 2006
Serves 2 as a Main; 4 as a Side
2 cups of frozen corn, cooked as per package instructions
1/2 a small red onion, thinly sliced
5 Tbsp extra-virgin olive oil
Kosher salt
1 tsp ground cumin
1/4 cup fresh lime juice
1 tsp minced fresh jalapeno (seeded for milder taste)
1 to 2 medium ripe tomatoes, seeded and cut into 1-inch chunks
1/2 cup drained canned beans, rinsed
1/2 cup loosely packed cilantro leaves, chopped
1 medium avocado, halved, pitted, peeled, and cut into medium dice
Freshly ground black pepper
1 scallion (white and green parts), thinly sliced on sharp diagonal
Combine cumin, lime juice, jalapeno, and 1 tsp kosher salt in a small bowl. Gradually wisk in the 5 Tbsp of oil to blend.
Lightly season the tomato chunks with salt. Transfer to a medium bowl and add corn, onion, beans, and cilantro. Drizzle vinaigrette over the salad and toss gently. Fold in the avocado. Season to taste with pepper. Garnish with the scallion and serve immediately.
Suggestion: Great as a main course with chunks of immitation crab meat, or buttered warm bread or toast on the side; or as a side dish with fish or seafood.